Courtesy of HOME PRO DIGITAL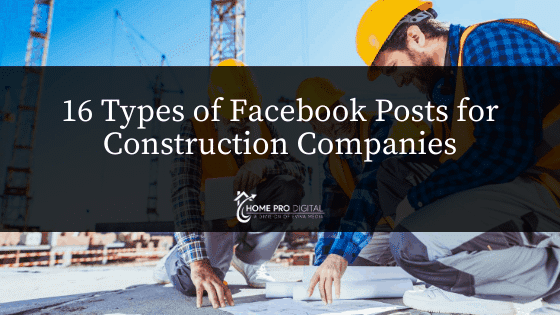 Growing your Construction Facebook page gives you the ability to grow your brand awareness and the trust of your community when you showcase your work.
Facebook is a visual platform and what better place to promote your construction projects than Facebook! We live in a social media world so it's a great place to build a community and be top of mind for people looking to hire a construction contractor.
Being successful on Facebook and creating a community of engaging followers takes time, consistency, and knowledge of what to post. Having a framework combined with Facebook ads can take your company far in the social space.
Knowing what to post and finding a variety of topics to post about can be time-consuming and stressful. If this is not an area you want to tackle then stop reading right now and check out our ready-to-go social media posts for the construction industry. No stressing and no time commitment.
If this is an area that you want to tackle, read on!
Here are 16 types of Facebook posts you can create for your construction company:
Project Photos – Show photos of your construction jobs. Before & after photos are always a big hit. Taking photos while doing the job are also popular with audiences. These types of posts show your expertise and skill while also showing the progress from the beginning of the job until the end.
Humor/Joke Posts – Including these types of posts lighten the mood and keeps your audience engaged. The more your audience is engaged the more the Facebook algorithm works in your favor. Try posting a photo from a site and ask your audience to caption it!
Ask questions/fill in the blank posts – Asking questions or having your audience fill in the blank gives you engagement on your page. The more engaged your audience the more people will see our posts. This also helps you with the Facebook Algorithm. When people are engaged it keeps Facebook happy.
Homeowners Tips – Offer homeowners tips about their home. These can be seasonal tips to help with their home or ones that give value year-round. Giving your Facebook fans valuable tips shows that you have expertise in your field and begin to build their trust in you. When they need someone in the construction industry – who do you think will come to mind?
Post Community Updates – If your construction company primarily works in certain areas then posting updates to the community may interest your customers. Post updates to community activities and grand openings and anything else that may interest your customer.
Promotional Posts – Promote your offers and services. Posting them regularly helps more people see your promotional posts. You can also promote contests and customer testimonials.
Personal Posts – Think about the companies or influencers you follow, most of the time you know some information about their personal life. It's what draws you to them and keeps you going back for more. Post some personal things. It doesn't have to give a lot of information but it could be you in the office or celebrating a holiday with the guys or even posting a picture of you eating your favorite food from a local restaurant.
Quotes – People love quotes. Funny quotes, motivational quotes, inspirational quotes. Quote posts help interaction on your page.
Construction Facts – Posting construction facts on your Facebook page has a few benefits. First, it educates your audience, second, it shows your expertise while you are educating. Win-Win!
Blogs/Resource Articles – Sharing your blog posts on Facebook increases the number of people that will see and read it. Blog posts can be used as a marketing tool. It can drive traffic back to your website. Once someone reads your post they can stick around and explore the rest of your site and learn more about you. Your potential customer will do research online and ask around. They won't hire a construction company without researching them and getting to know them as best that they can.
Introduce Your Staff – Introduce your staff one at a time. Knowing who your potential client will be working with gives them a sense of calm. You are giving your potential clients an inside look into your construction company and beginning to build trust with them.
Video Tours – People LOVE video tours. They want to see what a finished house or a remodeled project looks like. It gives them an idea of what you can do and envision what they can have done as well.
Share Floor Plans – Share your popular floor plans. When a potential customer is looking to have a house built or an addition added, finding a floor plan they like will alleviate the stress they have in getting their project started.
Promote Open Houses – once your houses are complete (or a demo house), promote the open houses! There's nothing more that people want than to envision what their house may look like. Give a quick sneak peek with a video tour and follow it up with an open house.
E-books, Checklists, or Guides – a lot of times you can share valuable information with a potential client by creating a simple checklist or guide for them. Then when they are ready to hire a contractor to build or remodel they will have you at the top of their list.
Share Awards – If your construction company has won awards then share them! Brag about how amazing your company is so people actually know. What's the point of winning an award if no one knows about it?